Her last film Daawat-e-Ishq didn't fare well at the box office nor did it manage to impress the audience. But Pari isn't really worried because she is all geared up to charm the masses with her new film and her completely new avatar…
Parineeti Chopra: People need to stop saying that I dress badly!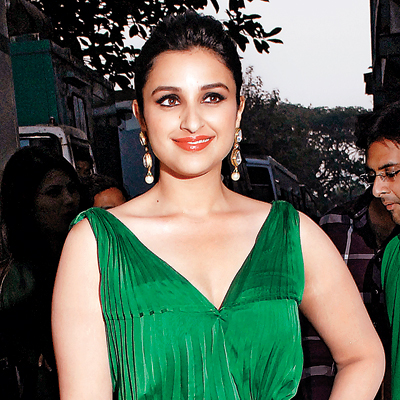 She is fierce, she is funny and she is smoking hot – that's the new Parineeti Chopra in a nutshell. As always, it was super fun to chat with Pari but before we got down to business, she told us she won't entertain any boring questions. Read on to know how our conversation turned out to be…
How have you managed not to have any cat fights with any of your contemporaries so far ?
Arey….we are such good people...we don't fight with anyone...we are so nice (laughs). Jokes apart, I will tell you what really it is. You know we genuinely like each other and most of us know each other even before we became actors. So there is no reason to suddenly not like each other. That bond has carried forward. Also, we know that there is work for everyone and I don't need to cut you to get your film. We all have different personalities and we are getting films accordingly. We spend so much time with each other and party together that there is no time for a fight. And I don't why this is surprising. If there is an article which comes out, I can call them up and say, 'listen this is what I said and this is what is written so please ignore.' Otherwise somebody else can start judging you.
What made you sign Kill Dil?
The director! I was dying to do a film with Shaad sir. He is one of those directors on your wishlist. And the first thing said to me when the film was offered to me was that it will be directed by Shaad. That was like the first tick on the check list. Then they said we need you to be only in western avatar. So that was the second tick and the it was Yash Raj Films so what else would you want. It was just awesome doing the film.
Initially, you were criticized for fashion but people are praising you for your style.
I honestly and genuinely feel relieved and I really worked hard at it. You know fashion is one area which has never been my strength. In the beginning, I just didn't know what would look nice on me. When someone would say oh this is Louis Vuitton, you should wear it, I would wear it and look shit in it. I had no idea. But then I realised that you first need to understand your body. And that along with having a good stylist is very important. Also, I need people to stop saying that I dress badly. I need them to say, 'Oh she dresses well, she acts well.' I don't want any negativity around me. So I want to improve that.
Sonam Kapoor recently applauded you for blasting some reporters. Comment.
Approval by another girl is always great and approval by another actress is even better. Honestly, I spoke with a lot of respect and in both instances it was a guy who was being dumb. I am not some bhartiya naari with agenda but in both these instances I felt the need to voice myself. Also, I am an actress so if I say something I feel it will make a difference, so I said it. But it's not my hobby to blast reporters (laughs).
After Kill Dil, you will be taking a break for eight to nine months?
I meant to say that my next release will be probably after eight to nine months. Even if I start shooting now, it will be ready after eight to nine months...itna time lagta hai. The Saif (Ali Khan) film is signed but we are not shooting because he was busy and I was too with Kill Dil. So we have pushed it and we don't know when we are going to start shooting for it. So I don't know what my next film is going be right now. Let's see how Kill Dil does and then I will take decisions.