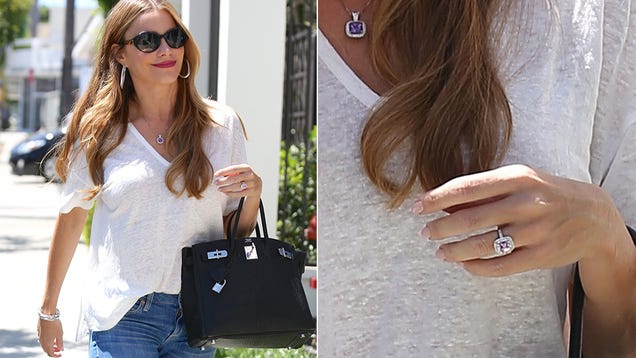 EXPAND
Sofia Vergara went out in public wearing a large diamond ring on her ring finger, causing gossip sites to gnash their teeth with glee and trepidation, sputtering "Sofia Vergara spotted wearing a ring on THAT finger!!!!!" while Google image searching "Joe Manganiello + tuxedo."
Sofia Vergara and Joe Manganiello, who have been dating for two months, are not engaged. Sofia Vergara just has really good business acumen — the ring is from the line she designed for Kay Jewelers (it matches the necklace she's wearing, also from her line). And, by smilingly wearing it on her ring finger, she elicited this fawning description from the Daily Mail:
The stunning 42-year-old certainly did nothing to hide the expensive bauble as she walked down the street on the gorgeous, sunny summer's day.

In fact, it was quite the opposite, with the star toting her pricey black leather Hermès Birkin bag in the crook of her leg arm, her hand thus lifted up, putting the ring on full display.

And what a display it was.

The sizeable cushion-cut ring positively glimmered in the sunlight, the platinum setting standing out against her natural sun-kissed skin.